Create Your Own Custom AI Chatbot
Pansophy AI is a powerful customizable chatbot that seamlessly integrate with any website. With its advanced AI technology, Pansophy AI allows users to build custom conversations, automate technical support, make sales, manage customer support, or anything you can come up with.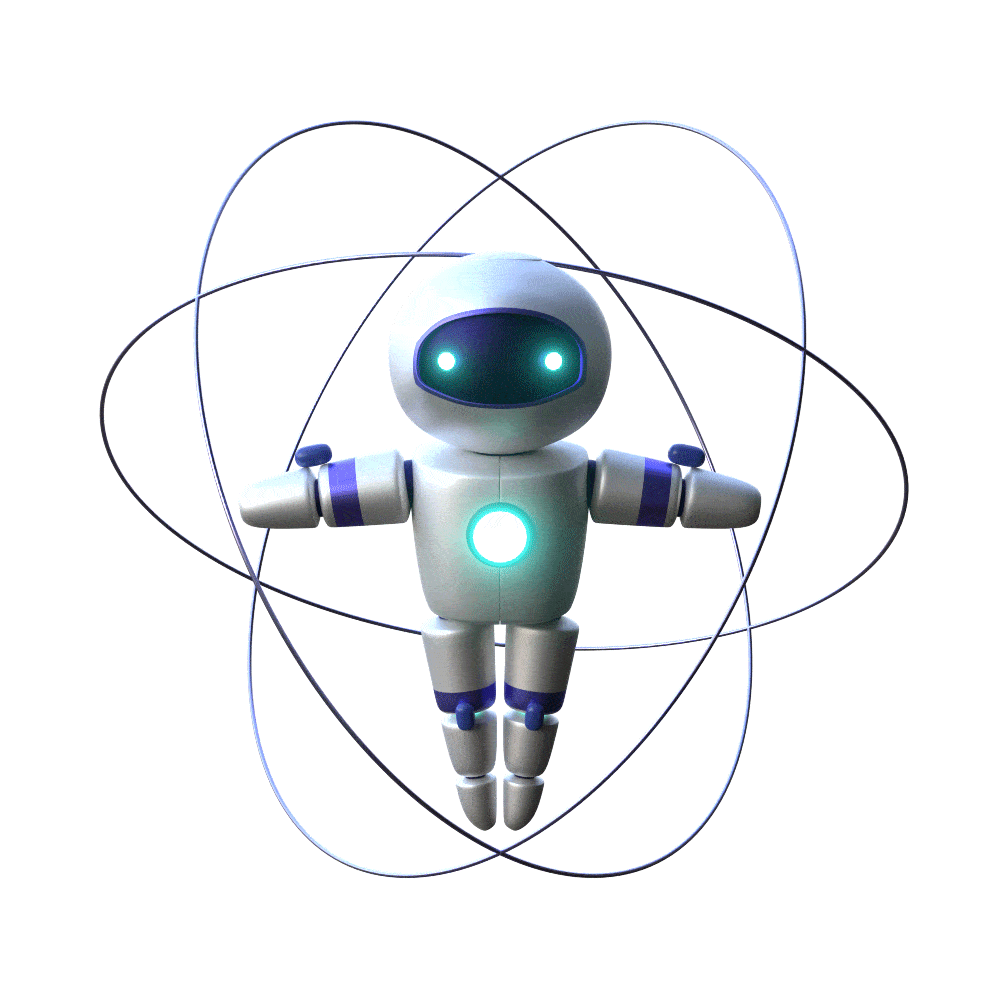 Custom Chatbot
The plugin allows users to build custom conversations, automate customer support, sales, etc.
Pay as you go
Pansophy offers Pay as you go tokens for customers, enabling them to pay for AI responses only when they use them.
Unlimited Websites
Customers can use Pansophy on as many websites as they need. This makes it a cost-effective solution for individuals and businesses who manage multiple websites.
Generate Content
Pansophy AI streamlines content creation with automated text generation, image sourcing, and much more.
Custom Branding/White label
Custom Branding allows premium users to personalize their chatbots with their own logo and brand colors, enhancing the overall user experience.
Embeddable Javascript Snippet
Customers can easily add Pansophy with JavaScript code snippets to their websites.
Pansophy AI Features
Chatbot Assistant
Content Creator
Restrict Chatbot to use your provided data
DALL-E-2 Image generator included
OpenAI Dataset Fine-tuning
OpenAI Embeddings
WordPress Integration
Custom Built Website Integration
Unlimited Websites
Unlimited Datasets
Entries Editor
Automatic Model Data Preparation
CSV and JSON import
Pay as you go
Custom Branding/White label
VIEW PRICING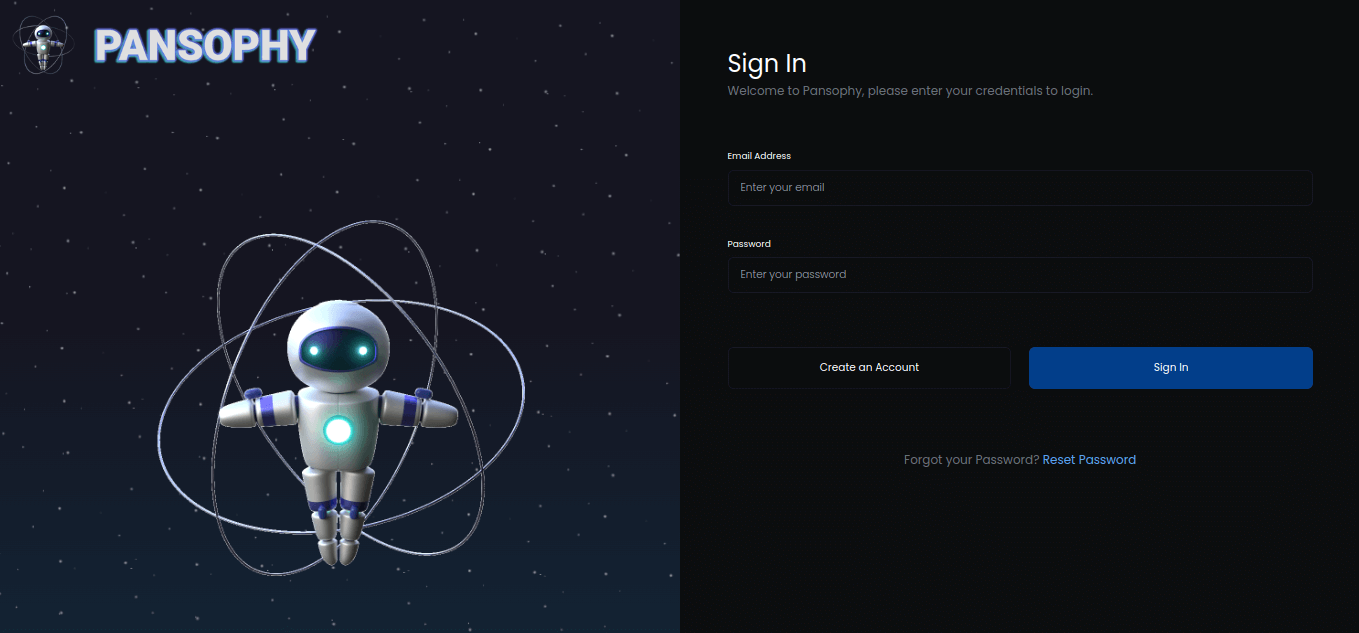 Create a chatbot while specifying the website URL as on the website which will host Chatbot.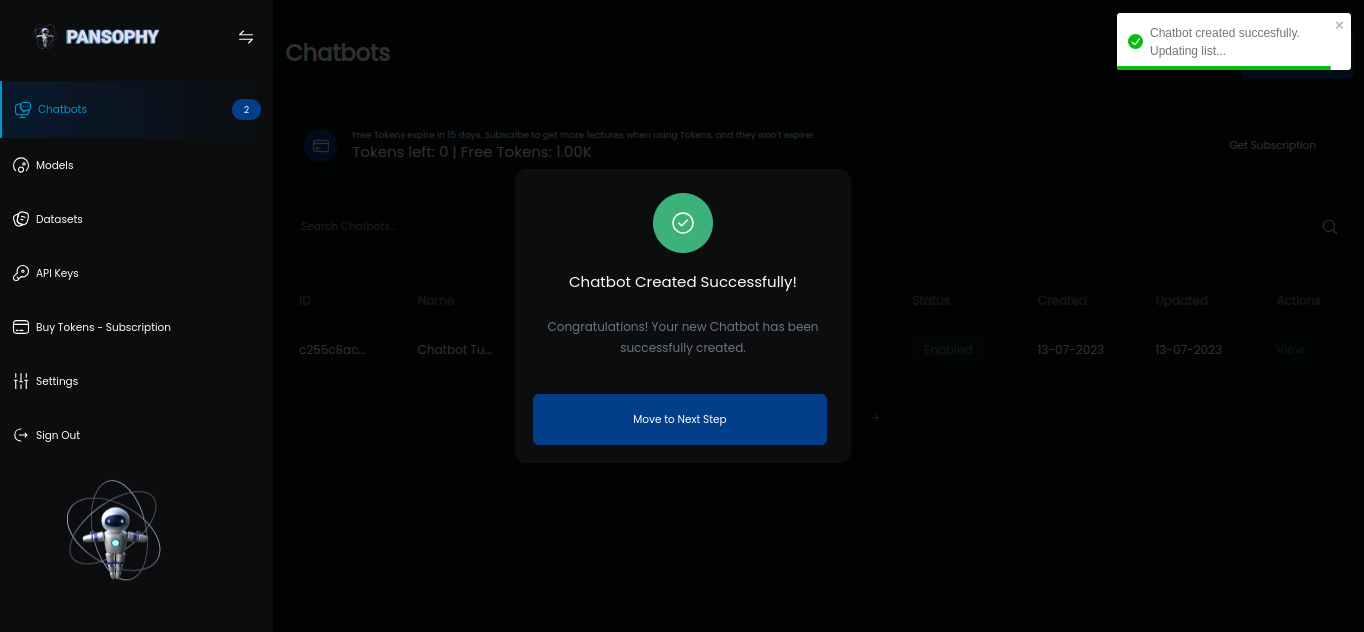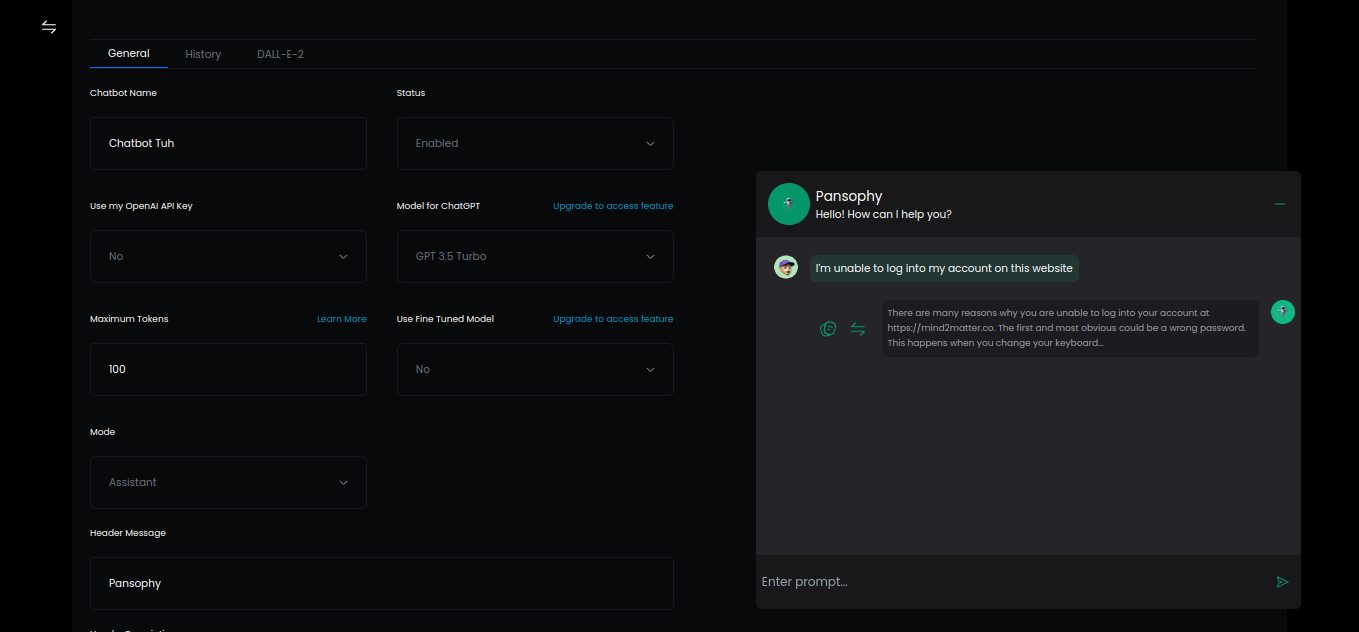 03
*Premium Feature

Customize Chatbot
Customize your Chatbot as required and save changes.
04
Copy & Insert Snippet Code
Copy Snippet Code and insert in your Pansophy WordPress plugin or in any website.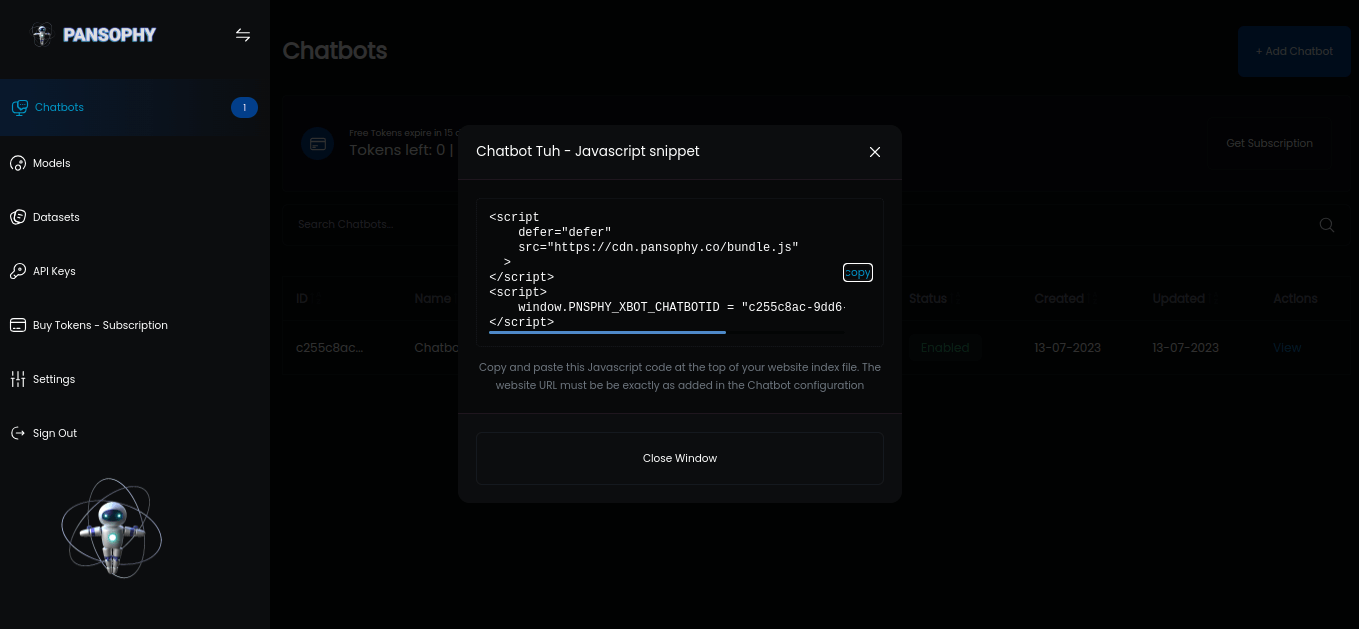 Personal
FREE
1000 Free Tokens
Pay as you Go Tokens
Features
Unlimited Chatbots
Custom AI Model Training
Datasets Management
Dataset CSV & JSONL Upload
Assistant Mode
GPT - 3.5
WordPress Integration

Coming soon Features

Shopify Integration
SUBSCRIBE
Small Business
$45

/month
1000 Free Tokens
Pay as you Go Tokens
Features
Includes everything in Free
Unlimited Chatbots
Unlimited Datasets
DALL-E-2 Image generator included
Chat Mode
Chat History
Chat Memory
GPT 3.5 Turbo

Coming soon Features

Auto Dataset Creation from Posts and Pages
Embeddable Javascript Snippet
Big Commerce Integration
Flutter Integration
SUBSCRIBE
Enterprise
$99

/month
1000 Free Tokens
Pay as you Go Tokens
Features
Includes everything in Small Business
Unlimited Chatbots
Unlimited Datasets
Model Download
Use your Open AI Key
Change Branding Logos
Remove Branding
Customize Chat Colors
SUBSCRIBE
Token purchasing
| Tokens | Price |
| --- | --- |
| 500,000 - 5,000,000 | $0.03 /1K tokens |
| 5,000,001 - 25,000,000 | $0.021 /1K tokens |
| 25,000,001+ | $0.015 /1K tokens |
Token usage
| Chat element | Tokens used |
| --- | --- |
| Text (3 characters) | 1 |
| Image (1024 x 1024px) | 1000 |
| Image (512 x 512px) | 900 |
| Image (256 x 256px) | 800 |